Origami Binary Star (Xander Perrott)
24,501 views • Uploaded on October 31, 2019 by Evan Zodl
User-Submitted Photos
Have you folded the model from this video?
Submit a photo
to be displayed here!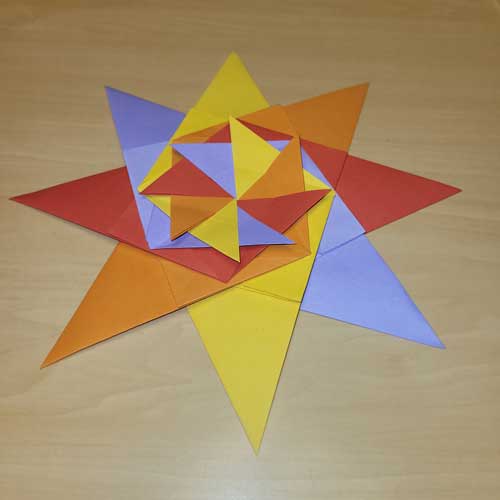 Low Intermediate
30+ minutes
30 rectangles
In this video, you will learn how to make an Origami Binary Star designed by Xander Perrott. This is an excellent modular design and it's not very difficult to fold!
Diagrams for this model can be found in Xander's brand new book, Folded Forms, which contains over 30 of his original designs, all folded from rectangles. Be sure to grab yourself a copy
here
.
This is variation 10 of the Binary Star. Each of the units is folded from a bronze rectangle (which is simply a rectangle with a dimension ratio of 1:√3). To learn how to cut a bronze rectangle from a square, check out my video tutorial
here
.
Tag photos of your Binary Star with #ezorigami or upload them to my
YouTube Gallery
to be featured in my next tutorial. Special thanks to Xander Perrott for granting me permission to create this tutorial for you. Be sure to check out his work
here
. If you have any suggestions for future videos, please leave a comment below! Any additional feedback is greatly appreciated!
---